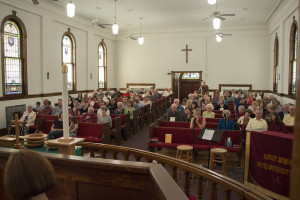 Before Covid-19 we gathered for worship each Sunday in the sanctuary at 11:00 am.  Now we gather in-person at 10:00am (with restrictions – see below) as well as online.
On Sunday, November 1, 2020 we began moving back into the sanctuary for our in-person worship services. We will also continue to live stream our service on Zoom. We will adhere to CDC, NCDHHS, and WNC UMC Conference guidelines, so please review the special requirements below. If you have a fever, are unwell, or have been exposed to anyone with COVID in the last 14 days, please choose to join us for online worship. We are continue to experiment with additional options for streaming online (e.g., Facebook) so stay tuned for future options.
We will be adhering to the following protocols to keep our members and all others safe while as we gather indoors for worship:
1.    All persons will be required to wear a mask at all times.
2.    We will only be using two doors to ENTER and EXIT the building. The side door at the Fellowship Hall level and the door from the new parking area. All other doors will be locked.
3.    Upon entering the building, you will be met by a "hospitality member" who will take your temperature. Individuals with temperatures up to 100.6(F) will be admitted.
4.    Tape markers on the floor will indicate 6FT distancing which must be observed.
5.    When you enter the sanctuary, you will be directed to your seats. 6FT intervals will be maintained. This distance will also be maintained in the pews.
6.    You will either pickup or be handed a bulletin and you will take a communion element cup from the altar rail when appropriate.
7.    A person known as a "floater" will be taking attendance from the back of the sanctuary, and they will provide additional assistance if required.
8.    For the time being we will not be singing. We will listen to prerecorded music during the service.
9.    Hand sanitizers will be in place and the sanctuary will be cleaned and sanitized after each service.
10. At the end of the service you must leave the building without gathering in groups. Once you are outside you may socialize with others.
These rules must be observed in order for us to gather safely. Thank you.
————————————————————————————————————–
We always welcome children, guests, and anyone else who would like to experience God's presence and God's word.  Our worship service has a traditional feel to it, though our music often varies from classical to bluegrass and everything in between.  We here at Asbury Memorial feel as though it is almost sinful to be boring or to give God anything short of our best, and we promise to never put you to sleep with one of our worship services.
Make plans to join us this Sunday, and may the peace of Christ be with you.