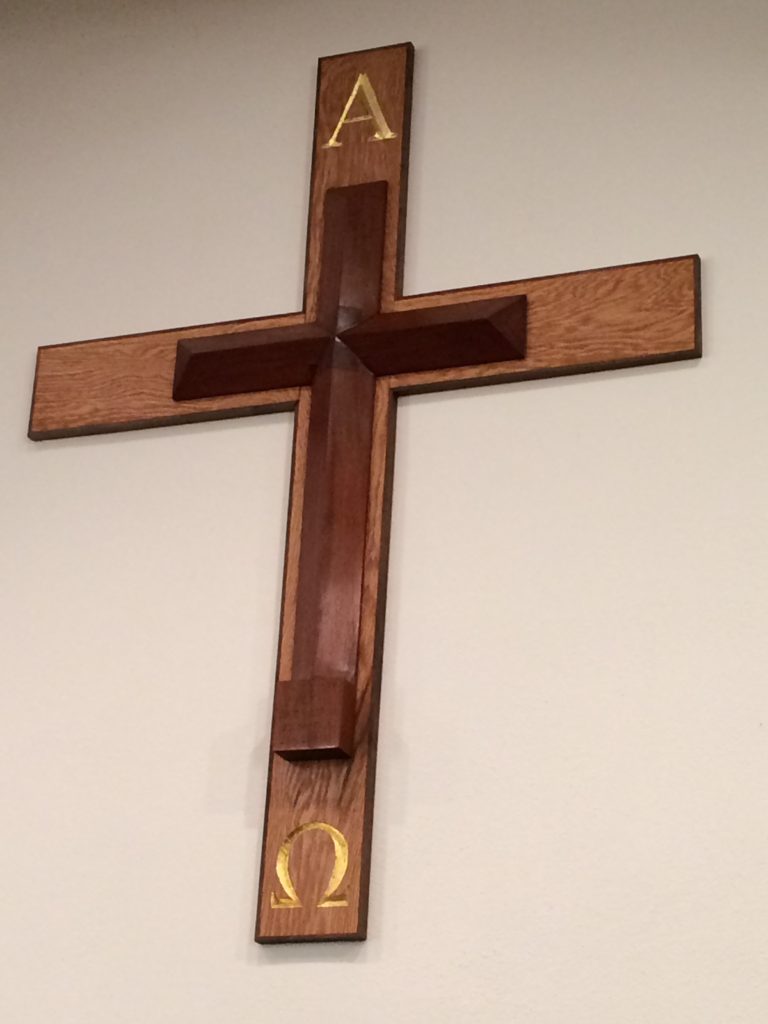 It is with great joy that we can announce a new addition to our sanctuary!  But, to be fair, calling it a "new" addition is a bit of a misnomer.  Luther Oates built the walnut cross that has adorned the chancel wall of our church since Mother's Day of 1935.  It is a beautiful, one-of-a-kind piece, but it was a bit small for its location above the choir loft on the back wall.
A little over three years ago we had to take down two 317 year-old white oak trees on the south side of the sanctuary.  With the help of the Jackson brothers, we were able to make sure the wood was milled up into dimensional lumber for furniture instead of just being turned into firewood.  The result of this project in saving those trees has already been seen in a number of projects around the church including the picture frames of the original deeds of the church and most recently the refurbishment of the 1879 pulpit that was in the timber-framed church.  Rick Morehead was able to take the white oak from our property and mix it with some walnut to create the pulpit we currently use today.
In many ways, our sanctuary appointments are a reflection of who we are as a church–old and new, blended together seamlessly and in harmony with one another!  The rich, walnut tones accentuate the warm tones of the white oak, creating a unified piece that reminds us of God's kingdom composed of many colors and peoples–different, yet united together even across the span of time.
Rick Morehead was able to do the lion's share of the work of this cross, assisted by Rev. Goforth who designed and carved the alpha and the omega on the refurbished cross, and Derick Tickle who gold-leafed the carvings.  This was a work that took the gifts and time of many people to complete, and we hope you enjoy it's presence among us in worship each Sunday morning.  Stay tuned because we now have a newly refurbished pulpit and a newly refurbished cross–now all we need is a "new" old altar from one of those slabs that the Jacksons cut for us of the Asbury Oaks!