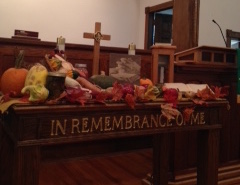 On Sunday, November 22nd, we will celebrate what we have been referring to as "Gratitude Sunday" for a number of years here at Asbury Memorial.  It has been our custom on the Sunday immediately before Thanksgiving to celebrate all that God has given us by remembering the need to give back and sharing a meal together after the worship service.
The church will be providing turkey, gravy, dressing, beverages, and bread.  Members are asked to bring a side dish to share.  The meal will take place in the Fellowship Hall immediately following the worship service.
As part of our celebration of Gratitude Sunday, there will be a time during the service when you will have the opportunity to fill out a pledge card and place it in a ceramic cornucopia (handcrafted by our own Derick Tickle) at the altar railing.  Pledge cards will be located in the pews during the coming weeks.  If you're unable to attend a worship service, we'd be happy to mail you one the old fashioned way (Just call Mandy at the church office and she can get you one sent out).
Pledging is one way that you can help the church be faithful stewards of what God has entrusted us with.  Though stewardship is about more than just money, it is not about less, and we hope you'll consider helping the ministry of Asbury Memorial UMC go forward in ministry to the world in the coming year and beyond.  As you may know, we've had several major expenses in the past year (replacing the roof on the Educational Building and the need to replace the roof on the Sanctuary in the coming years) and we are most certainly in need of your help to keep going strong.  We've been sharing the love of Christ for 214 years here in the Beaverdam Valley and beyond, but it's only through the generosity of our members and friends each year that we are able to continue reaching out to those in need and providing the spiritual foundation you've come to rely on.  (Please know that all information regarding your pledge will be kept confidential).  We are grateful for your generosity and for all you do to fund the ministry of Asbury Memorial UMC!  So, at this time of the season, please know that we are thankful for you!